Current News
New Corriedale Secretariat – August 2017
Peter Weston has retired after 24 years as Secretary of the Australian Corriedale Association Inc. and after 50 years of stud sheep breed administration. The ACA Federal Council Executive has appointed the Royal Agricultural & Horticultural Society of SA Inc., Rural Services Department, as the new ACA Secretariat.
Looking after the Corriedales will be Malcolm Buckby, the Manager of the Rural Services Department. Malcolm's contact details are:
Phone: (08) 8210 5230 (direct); Email: secretary@corriedale.org.au
Address: PO Box 108, Goodwood, SA 5034
2016 NSW Corriedale Breeders Victorian Tour
The last week in September,  seven intrepid New South Welshmen, Chris and Amanda Kemp, Henry and Annette Thompson, and Jon Abbott picked up their last couple, Richard and Jane Carter at Narrandera . Their mission to have a look at Corriedales  in Victoria. They crossed the border amidst storms and flood warnings to visit four Victorian Corriedale studs.
Stopping at Deniliquin at the Peppin Sheep Museum, Amanda Kemps great discovery was of a row of Corriedale Flock books starting at No 1., which provided a fascinating start for the journey.  Jon Abbott read out the conditions for teachers in the nineteenth century in rural Australia - they were tough.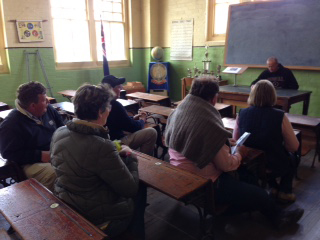 At Loddon Park , we were met by the champions from Bendigo and Shane Baker, as Peter was still overseas and a race filled with the sale team rams. It was interesting to see his White Suffolk stud rams. The timing was right as they were preparing rams for the joint sale in October. And our first morning tea.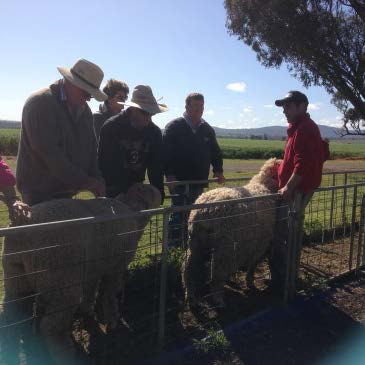 Driving to Porcupine Ridge, we were met on the road by Darryl, and escorted to their farm.  The MacDonalds have been there since the 1850's and the sight of over a thousand Corriedale ewes with their lambs on the steep slopes was something to behold. Again we had the chance to inspect the sale team for the October sale and the young stud sires. Jan's lunch and afternoon tea, with her amazing little cheesecake tarts and homemade sausage rolls, were delicious. It was interesting to talk to Finn and Amanda, the next generation of Corriedale breeders.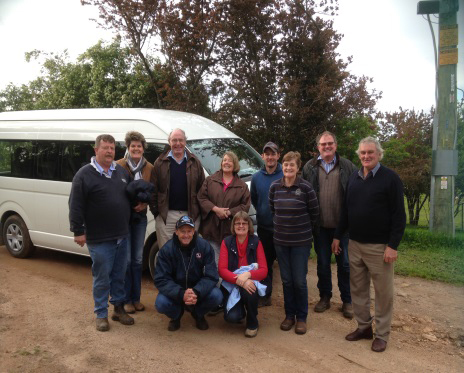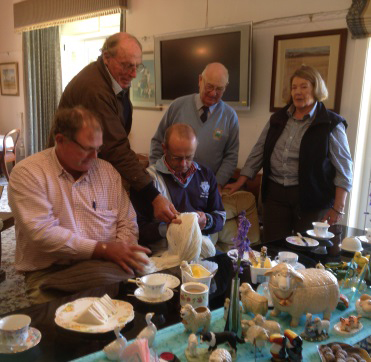 The next day, we were royally welcomed by Brenda and Jim Venters near Geelong and ushered straight into a yard full of ewes and lambs to class and enjoy, followed by a drive over their farm which has been in the family also since the 1850-'s. Beautiful scones, slice and sandwiches at Springdale  as we caught a view of two elephants out the window.  Perhaps Jim and Brenda remembered Senator Guthrie's comment that the original Corbett sheep were as big as Shetland Ponies.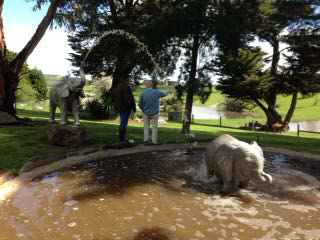 This kept us going until our last stop, Compton Park where we were met by Milton and Charlie Savage for a lovely lunch.   It is fascinating to see Corriedale sheep in their home environment, surrounded by the rest of the mob, old and young alike. Once again we were lucky to see the young rams being prepared for the sale. It will be interesting to see how Charlie's 'pick', fare next year.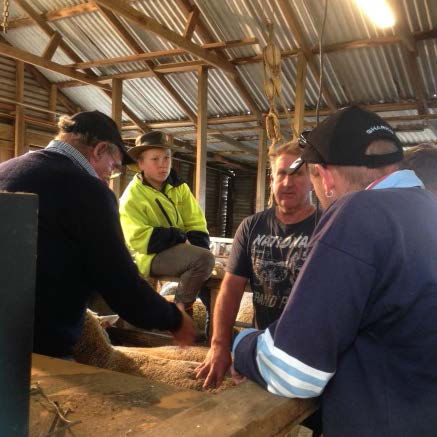 Our final thoughts on the journey home was how generous all four studs had been at showing us anything we wanted to look at. It was a wonderful experience to be given the chance to see so many good sheep.  At each farm the sun shone and the welcome was equally warm.  And luckily we managed to miss the flooding on the return journey, as the bus was weighing a bit heavier, from all the good food. Full marks to Henry Thompson, our  State Branch Social Director, for making it possible.